How does science communicate results to society? What strategies can recover the distance between science and civil society and at the same time guarantee adequate scientific information? Today, Responsible bioscience, a new association born at University of Rome "Tor Vergata" during the STARBIOS2 project, organises a public conference on the topic of disseminating science locally.
This text was originally published on the University of Rome "Tor Vergata" website (in Italian).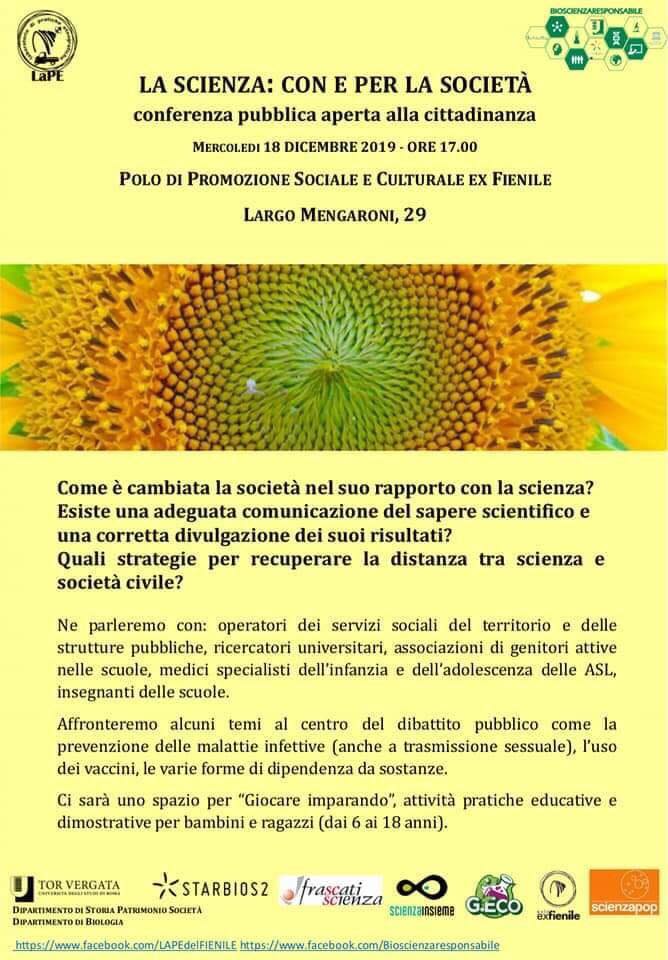 On December 18, university professors and researchers at University of Rome "Tor Vergata" meet with operators of the local social services and public entities, parent-school associations, medical specialists in childhood and adolescence, school teachers, and other stakeholders, to discuss responsible dissemination of science.
The conference will raise issues that are in the public debate, like prevention of infectious diseases (including sexually transmitted diseases), vaccines, and various forms of substance dependence. The event is organised by the Laboratory of Ethnographic Practices (LaPe) at the Department of Cultural Heritage and Training History and Society at the University of Rome "Tor Vergata" and by the Responsible in Bioscience Association, Department of Biology, at the same university.
The initiative is a collaboration with STARBIOS2. The Frascati Scienza, G.eco, Grande come una città, Scienza Insieme, and ScienzaPop associations will also be taking part in the event. They are all committed to creating opportunities for citizens and institutions to meet and discuss topics related to science. And they are active promoters of scientific dissemination, for example through workshops for children and young people.
Speakers include, among others, Vittorio Colizzi (Pathology and Immunology – University of Rome "Tor Vergata" – STARBIOS2 Project), Piero Vereni (Cultural Anthropology – University of Rome "Tor Vergata"), Anna Criscuolo (Gynecologist – University Tor Hospital Vergata) and Mattia della Rocca (General Psychology – University of Rome "Tor Vergata").