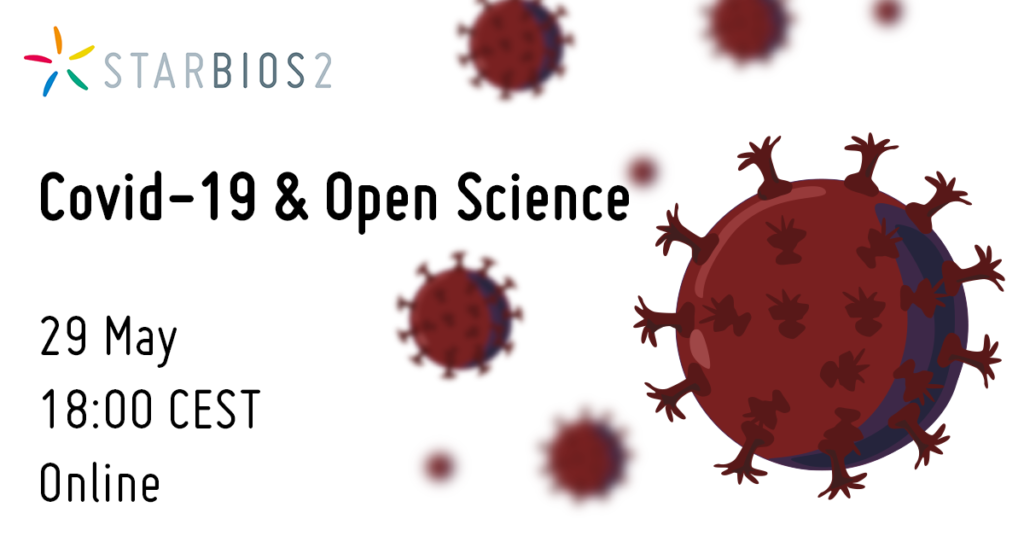 "Covid-19 and Open Science" will be an opportunity to learn from and discuss Open Science approaches, methodologies and best practice used by STARBIOS2 partners involved in fighting the novel coronavirus and Covid-19. Join us on 29 May 2020, at 18:00 CEST!
Directly following the STARBIOS2 final event on 29 May, we organise a special event on Covid-19 and Open Science. The Covid-19 pandemic caused by the new coronavirus (SARS-CoV2) has reinforced data sharing, communication and collaboration within international research communities. Challenging, in a positive way, the utilization of open science approaches and methodologies.
Speakers include…
The UNESCO chairs for Covid-19
Ahmed Fahmi, UNESCO

Title to be announced
Eva Méndez, University Carlos III, Madrid

Targets of T cell responses to SARS-CoV-2 coronavirus in humans with COVID-19 disease and unexposed individuals
Alessandro Sette, La Jolla Institute for Immunology, CA, USA

University students partnership during Covid-19 epidemics in Cameroon
Jules-Roger Kuiate, Evangelic University of Cameroon

The Covid-19 Tor Vergata Joint Laboratory
Vittorio Colizzi, professor of Immunology, University of Rome Tor Vergata, director of the UNESCO Chair of Biotechnology & Bioethics,Coordinator of the Tor Vergata Covid-19 Joint Lab

Open Science is a new approach to the scientific process based on cooperative work and new ways of diffusing knowledge through digital technologies and collaborative tools. With the goal of making scientific research available to all. A goal that could be accomplished by publishing open scientific research, campaigning for open access, and making it easier to both publish and communicate knowledge and new findings.
Finding ways of making research more transparent and accessible during the research process has become incredibly relevant for research about SARS-CoV2 and Covid-19. Open notebook science, citizen science, crowdfunding and open source software is more relevant than ever.